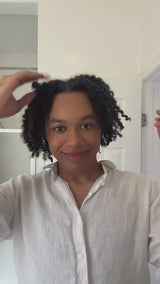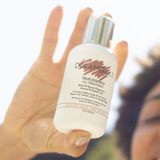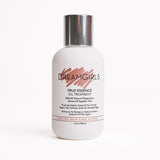 For Wash Day
True Essence Growth Oil
STEP 5: FINISHING TOUCH
This all-natural, nourishing oil treatment eliminates dryness, prevents breakage, and leaves hair with a healthy shine. Soybean oil conditions and protects, Sweet Almond Oil adds elasticity, and Peppermint Oil stimulates the scalp for growth!

4 fl oz (118 ml)
Use this product as a 5th step during your DreamGirls wash day.
To add protection and sheen, apply a small amount into the palm of hands, and massage directly onto the scalp and hair. 

For treating bald spots or edges, directly apply oil to affected areas for stronger results.

For hot oil treatments, apply a generous amount throughout the hair. Place a plastic or thermal cap, steam or heat as necessary, & rinse with cool water complete.
Use daily for best results. Works well with wet or dry hair. 
Do not use it on infants under a year old.
With All Natural Peppermint

Almond & Soybean Oils

Color and Straightener Safe

UV Protectant
Glycine Soja (Soybean) Oil, Prunus Amygdalus Dulcis (Sweet Almond) Oil, Mentha Piperita (Peppermint) Oil.

*Oil cap may be a spray nozzle, not a disc-cap (as pictured).